Today we get the chance to make some free Bitcoin !
This Guide is very simple, tested and confirmed by a lot of users .
This ONLY works if :
a. You have a BTC wallet (wallet A) with private keys or seed .
b. You have a wallet with BTC (wallet A) since BEFORE the 1 August Hard Fork .
How to double your

Bitcoin

into

Bitcoin Cash
1. Wallet A – is your wallet with Bitcoin
2. Create a new BTC wallet – Wallet B – (get Electrum Wallet for this)
3. Move your BTC from Wallet A to Wallet B …. WAIT for more then 3 confirmations … that's what I did anyway 🙂
4. Create a BCC Wallet [ see bitcoincash.org the BCC electrum version : "Electron Cash" ]
5. Import the private keys from wallet A into the new BCC wallet [menu > Wallet > Private keys > Wweep ]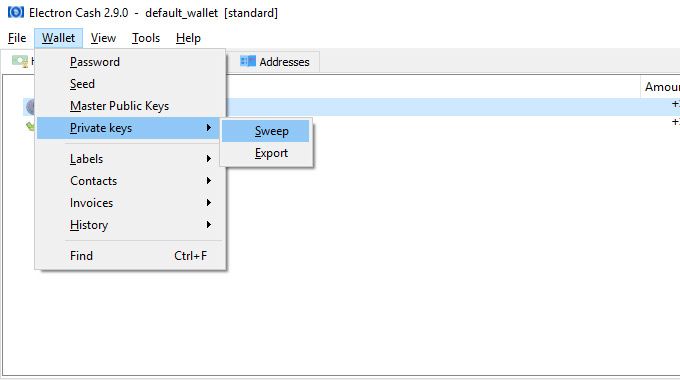 6. If everything is OK then you should get a Confirmation message – click BROADCAST .
TAdaaaaaaaaaaaa .. that's it !

---
UPDATE 02.08.2017
IF your Electron wallet looks empty after importing the BTC private keys, go to your Electron Bcc Wallet and manually select one of the servers :
electrum-abc.criptolayer.net
or
electroncash.cascharia.com
---
UDATE 03.08.2017 – for Trezor Wallets
How to claim your BCC / BCH if you have a
Trezor Wallet
To claim your BCC (or BCH) from Trezor, please see the official the following links from Trezor :
Claiming BCH using the Trezor tool : https://trezor.io/claim-bch/
Source : https://blog.trezor.io/claim-bcash-bitcoin-cash-bch-bcc-trezor-wallet-f0a810d5864a
---
UPDATE 04.08.2017
1. Bittrex and most of the other markets opened Deposits for BCC (and the price crashed)
2. Poloniex announced it would give all users their BCC amount if they had BTC in their wallet at the time of the Fork
3. Coinbase also announced it will give users their BCC
---
What to do with the BCC now ?
My suggestion would be to transfer it to Bittrex and SELL it for some good old BTC … or just keep it, if you believe it will sky-rocket at some point .
---
UPDATE 11.08.2017
CoinJar – BCC (bch) CLAIM – 60 days timeframe .
Just got this from CoinJar :
"From August 21, a 60-day claim window will open for users who held a BTC balance in their CoinJar at 1 August 2017. BCH tokens will be provided as a single withdrawal and we will require a fixed processing fee of 0.05 BCH in order to cover transaction fees and administrative overheads."
---
Did that work for you ? Send a TIP to the Author !
#BCC : 16JKqjbGmQJdoSTTvSKRDPrdb7VPhqcguk
#BTC : 16FNR3AaSwKZFYrnpv6pjdvVmxtktAi3fw

Have anything to add ? Leave your comment below .